I was just catching up on my YouTube subscriptions and stumbled across yet another, under tested (assuming it has undergone ANY testing) "feature".
"Turn down the lights"
This only seems to show on the long videos, i noticed it on a 50 minute ofcom talk (don't ask why, but i like to keep up with the media and communications sector).
I have to say, this seems to be the best example of simply little to no testing being done before things go live, and frankly it is totally unacceptable of a company/website like YouTube/Google.
YouTube and Google literally have hundreds and thousands of developers (its rumored it costs $1 MILLION a day just to feed them), and they are FAILING to produce decent features.

Okay so first off lets show how this looks on the page.
Exhibit A clearly shows the YouTube coders need to learn how to code.
Because the "Turn the lights down" button has bumped up the title of the video, leaving a lot of wasted white space around the top area. This is BASIC coding, and YouTube should not have this problem. End OF!
[ad name="posts"]
(You can also see the language selection box "feature" which STILL won't leave me in peace and insists that it must know – Do i want to view the site in English or English.)
Also before any of the people who know I generally prefer to use IE7, this isn't just IE… its FireFox too – not browser issue, it's YouTube.
Just to prove my point slightly, i even went to the trouble of proving it can be done better.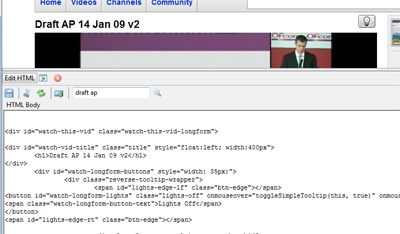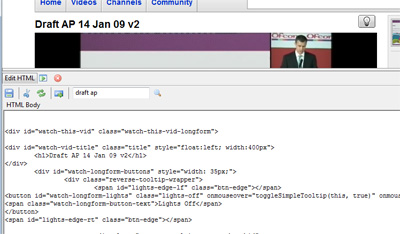 Within 5 minutes (including the time it took to download and install the editor plugin) I had hacked about a bit and got them looking better. Obviously it can be done better. But it shouldn't be done by me (at least not until I'm on the payroll!).
– Plugin used: http://chrispederick.com/work/web-developer/ –
Of course, i do seem to rant about YouTube and their handy little "features" and changes, but this ones really got me, and it gets worse.
So when you click the "Turn down the lights" button to adds a kind of lightbox effect to the area around the video and hides the sidebar and other boxes next to and below the video itself. (Note the fact that the "Promoted Videos" title is left floating mid-screen)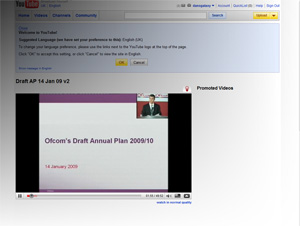 As you can see it seems YouTube tried to get fancy and be different by not just making the background fade but by adding gradient to the fade, so the top left hand corner is much darker and fades off into the bottom right, however frankly this looks crap, and a normal lightbox style would be much better.
Also why couldn't they have some nice JS "move" the video into the center of the screen, and maybe enlarge it? I assume the idea of putting it only on long videos is they expect users to watch them, and want to make it easier and less distracting? Well surely a centered slightly enlarged version is much better than just hiding the sidebar which now leaves a HUGE empty void above and below the video!
You guessed it! It GETS WORSE!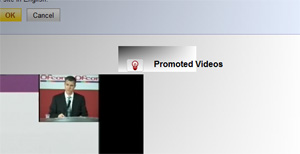 Not only this but now when you hover over the "Turn up the lights" icon it totally destroys the gradient around the area of the pop-up.
And leaves it looking like like someone cut a chunk out the gradient and then refilled it with another gradient.
This kind of thing just really bugs the hell out of me, its terrible, its buggy, its crap, pointless, pathetic attempts and showing off what they can do and they have failed.
Maybe the credit crunch is to blame, everyone else is blaming everything on the "economic climate"… maybe Google/YouTube had to give the entire debugging team the sack as they running a little short on cash? After all a majority of Googles money comes from ads…
The worst part is you just know that this kind of thing would have been picked up in minutes if the people who developed this went to Bob in the next office and said mind taking a look at what i just done?
YouTube, you fail.
BETA TESTING IS WHAT YOU NEED! I will keep saying it until you start listening!
[ad name="posts"]