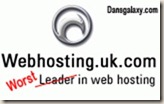 I am not a fan of mindlessly bashing companies, but as those who have known me for more than a few minutes will know I can rant. A lot. And when it comes to companies or people not playing fair, or providing abysmal service it really winds me up.
[ad name="postsqrRight"]I was a loyal customer of Webhosting.uk.com (Webhosting UK Com Ltd) for many years, but I made the recent decision to ditch them due to consistently poor service, this decision lead to a dispute where by they refused to honour their own terms of service, this break of contract and the fact this meant that I was effectively mis-sold the services lead to me being very angry (and complaints to Trading Standards).
Because of this I have decided to share my bad experiences and provide an honest review of the service I have received to hopefully provide an insight into how they treat their customers, this is not trolling. It is fact and backed up by chat logs and personal experience.
Part 1: Why Webhosting.uk.com is a dishonest company.
Over my time of using Webhosting.uk.com services I noticed many similarities between themselves and other (supposedly) separate companies, such as Eukhost, Bodhost and others.
This became particularly obvious when I noticed IP addresses & cPanel licenses were actually registered to Eukhost not Web hosting UK. When I initially questioned this it was said that they companies were separate, and have separate ownership but had a working relationship – yea, right.
I then noticed a few months back that my payments instead of going to Webhosting UK Com Ltd on PayPal were now being directed to Bodhost. This was obviously a little concerning and I decided to query this using the live chat facility on Webhosting.uk.com's website.
Chat Log:
Austin: Hello Dan.
Austin: How may I assist you today ?
Dan: Hi, just querying, why are my subscription payments showing "bodhost" as the recipient ?

– Long period of no response –
Dan: Hello?
Austin: Can you please let me know your primary domain name or the email address with which you have registered with us, as per our billing records?
Dan: my@email.addr
Dan: i have a VPS
Austin: We have no account with email address my@email.addr
Dan: Well you do.
Dan: And you have had for years now.
Austin: Our record shows that there is no account with email address (my@email.addr) in our bodhost system.
Dan: Well yes, because Its with Webhosting uk.
Austin: Webhosting.uk has nothing to do with Bodhost
Dan: If you read what I first said I was querying why my WebHosting UK invoice paid via Paypal subscription was addressed to bodhost…
Dan: Well, obviously not, as if they had nothing to do with it you wouldnt have just checked the bodhost system on a Webhosting uk chat.
Austin: I request you to send in an email to us at billing@bodhost.com. We will have to check this with our Senior Admin.
Austin: As I am new to this firm.
Dan: I opened this sales chat from WebHosting.uk.com. If a group of companies is going to share live chat, it is probably advisable that you keep track of which company you are supposed to be working for when you then deny that you are connected.
Dan: Also, unless there are more than one Austin's I spoken with you well over a year ago.
This is one of many examples of support ops providing details of other companies (such as telling me to email support@eukhost.com) and then denying any connection between them when questioned.
Now just to be clear, I have no problem with companies which own and operate under different brand names, many do it perfectly well and it's a perfectly viable business strategy. What I object to is being lied to, and the dishonesty in the company which YOU are paying your hard earned money to can't be honest with you.
Also note that John Strong is the Managing Director of BOTH Webhosting UK Com Ltd AND Bodhost Ltd, both companies also share directors – including Jenna Strong.
There is no doubt that (at the least) Webhosting UK Com Ltd and Bodhost Ltd are owned and operated by the same people, share the same support staff, PayPal and their "offices" are within walking distance – one of which appears to be a rent-a-desk job, likely purely for the separate mailing address. All to enable them to deny the connection?
Does this sound like people you should trust with your money?