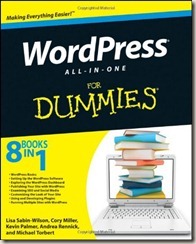 WordPress is now one of (if not the) biggest blogging platform on the web, with over 32.5 Million downloads of version 3.01 and over 20.32 Million WordPress blogs hosted on WordPress.com alone and an estimated 9.7 million active installations – we have an impressively large platform!
I was recently sent a copy of WordPress All-in-one for Dummies by Lisa Sabin-Wilson, Cory Miller, Kevin Palmer, Andrea Rennick and Michael Torbert.
After reading this I have been incredibly impressed with just how simple it makes getting to grips with WordPress.
The all-in-one book consists of 8 books rolled into one:
WordPress Basics
Setting up the WordPress Software
Exploring the WordPress Dashboard
Publishing your site with WordPress
Examining SEO and Social Media
Customising the look of your site
Using and Developing Plugins
Running Multiple Sites with WordPress
These books combined cover every conceivable thing you'd ever need to know, it really is as simple as that.
WordPress All-in-one for Dummies, led by Lisa Sabin-Wilson, provides a solid learning source, with writers who are active users and authorities voices in the blogging and social media community, each with a wealth of knowledge and skills
"WordPress All-in-One For Dummies gives users the more advanced information they need to go beyond the platform's basic use by tapping some real experts from the field"

– Lisa Sabin-Wilson.
In my many years working with the Web, WordPress, Web Development and Web Hosting I have done a lot with WordPress and its great to see a resource which covers it all from installing your WordPress blog to customising and developing widgets to help you get the very most from this fantastic software.
I was a little disappointed with the quality of the hosts mentioned as personally I wouldn't consider them to be them to be the most reliable and I'm sure I could have suggested some great plugins which everyone should use which wasn't mentioned in the book, but we can't have everything can we?
For more information on WordPress All-in-one for Dummies check out the Wiley.com website. (ISBN13: 978-0-470-87701-2)