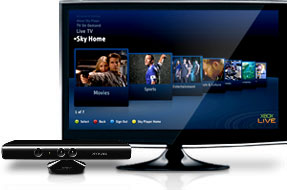 After rushing back on Friday to get home for Christmas I've had great fun checking out the Sky TV offering on the XBOX, which on a cheap £15 subscription offers some great features. With a great variety of entertainment channels, which you can watch live streamed as well as some great On Demand content. I particularly enjoyed a funny little selection of funny shorts from comedians and celebrities from Sky 1 called "Little Crackers" which was very entertaining to watch!
This seems like a great way to enjoy Sky TV without the hassle or expense of getting a Sky box or dish installed. Not to mention the massive flexibility of a monthly ticket and no need for long 12 month contracts, its great TV without the hassle.
The more I am using my XBOX with the new functionality and entertainment the more value I get. A great example of this can be shown in just the past couple of days where I have come home from University. I hang out at a friends and can simply login and bang, Sky TV, LOVEFiLM the lot. Entertainment wherever I am, it's awesome.
As I mentioned last week when I spoke about the Movie offerings on the new XBOX 360 dashboard I am a XBOX Ambassador, I have an awesome discount code which will score all of you guys 50% off your XBOX Gold Membership for 3 months. How to get it? Just comment on here and/or give me a follow @dansgalaxy on Twitter and tweet at me!