In just over 2 weeks I will be moving into my new house, with 6 friends and one of our primary concerns is the cost of bills – Particularly power & Gas.
It's going to be a fun challenge trying to keep our bills as low as possible  and I plan on using as many gadgets and tools to help us stay right on the ball with our energy usage.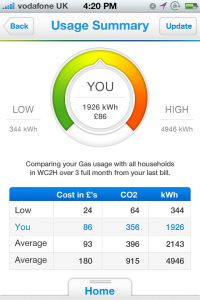 British Gas seem to really have this type of easy management of your energy usage online, and on the go with their app (I hope they'll have a nice Windows Phone version soon 😉 ) which allows you to view your energy usage, view bills, book engineers, and manage your account wherever you may be, helping you to stay on top of what you use, an importantly helping to keep your bills low.
British Gas have been researching how to make it easier for busy people and found that busy mums are saving up to an hour a day by doing their routinely daily tasks, like managing their finances and paying energy bills at the same time as doing housework (39%) or even… on the toilet (22%)!
With 7/10 mums heading to the net to manage things it's easy to see why British Gas have put a lot of effort into making it as easy as possible for them, but it's not all about mum's. Youngsters use the internet too for getting things done quickly, with a whooping 83% using it for managing their finances – Thank you internet banking – and of course 85% use it for catching up with friends and social networking.. Which makes me wonder how the other 15% do it?
For those of you with British Gas it's definitely worth getting on this, Register now and you'll also nab 2000 Nector points as well as earning rewards for adding your meter readings and using the online tools available, if you're still not convinced click to Find out more.