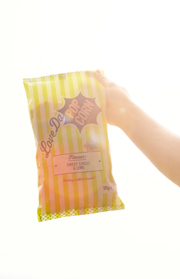 As a big Dragon Den fan it's always exciting when I get to see products which I've seen in the Den in real life, especially when they're edible.
Yourvine is doing a cool challenge for Love Da Popcorn, complete challenges and get free Love Da Popcorn! How cool is that?
Don't watch Dragons Den? 
If you don't watch Dragons Den or missed the episode with the Love Da Popcorn guys in it you might be wondering what "Love Da Popcorn" is.
Love Da Popcorn is traditional and funky popcorn with some odd and interesting flavours such as sea salt & black pepper, white chocolate, sweet chilli & lime and numerous others. You can also watch the clip of them in the den here.
So what's Yourvine?
Yourvine is an online platform that allows you to interact with your favourite brands and earn rewards (like free popcorn). It looks like a nice way to interact with companies and provides some fun challenges and rewards check it out with an EXCLUSIVE invite just for you -> Join Yourvine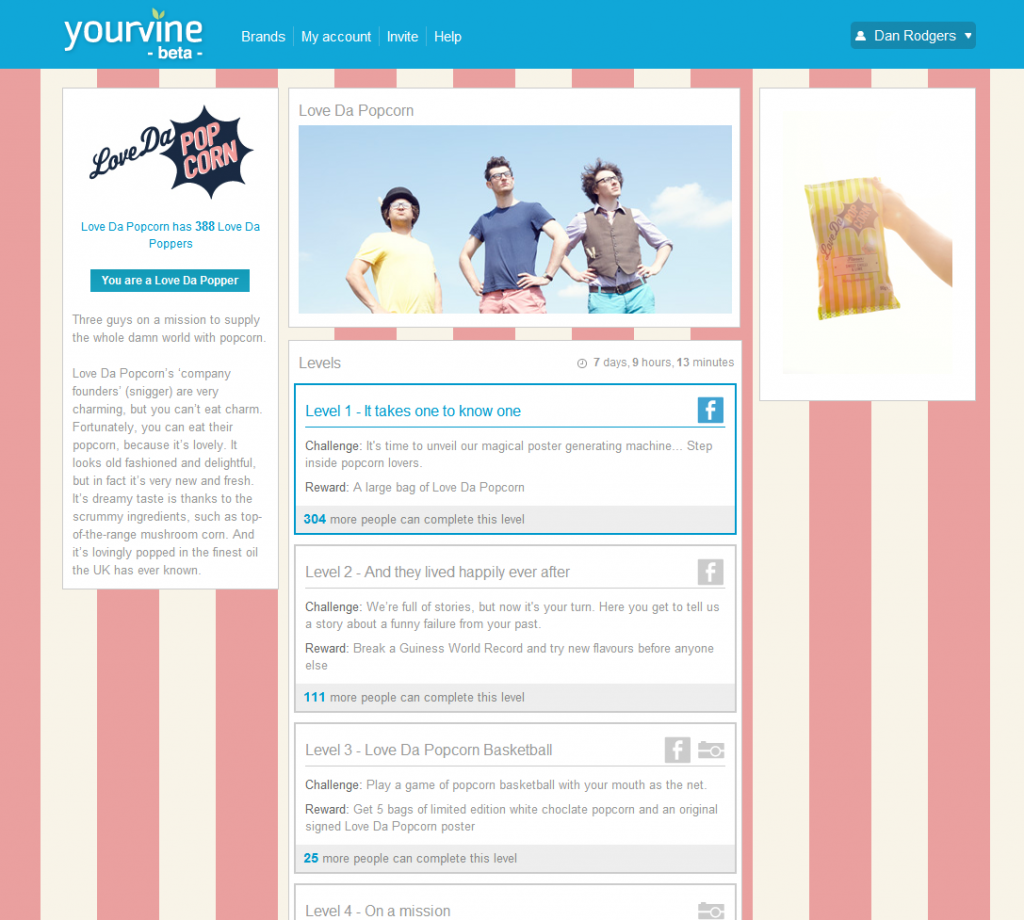 The Challenges
The challenges are simple and fun, and something I'm looking forward to diving into and earning myself some free popcorn!
Level 1 – It takes one to know one
Challenge: It's time to unveil our magical poster generating machine… Step inside popcorn lovers and make a poster about yourself.
Reward: A large bag of Love Da Popcorn
Level 2 – And they lived happily ever after
Challenge: We're full of stories, but now it's your turn. Here you get to tell us a story about a funny failure from your past.
Reward: Break a Guinness World Record and try new flavours before anyone else
Level 3 – Love Da Popcorn Basketball
Challenge: Play a game of popcorn basketball with your mouth as the net.
Reward: Get 5 bags of limited edition white chocolate popcorn and an original signed Love Da Popcorn poster
Level 4 – On a mission
Challenge: We're on a mission to supply the whole damn world with popcorn. But in the meantime, there are a few people we really want to see with a bag of Love Da Popcorn, and you can help make it happen….
Reward: A year's supply of Love Da Popcorn


Looks like some fun challenges, and I'm looking forward to jumping in and trying to win myself a ton of Love Da Popcorn… Won't help with the diet much but I'm sure it'll taste lush!